Features
This leather car seat cover full set is acclaimed for its sophisticated stereoscopic effect. It not only fully protects your seats, but also adds a touch of color to your interior.
Made of high-quality leather fabric and soft sponge padding, the car seat cover is soft and comfortable. It's waterproof and wear-resistant, easy to clean with a wet towel, and even a pet's paws won't leave scratches on the faux leather.
In addition, we have also specially considered the compatibility of the airbag, and reserved enough space on the car seat cover that the airbag will never be blocked. There are also two pockets on the front seat back of the car seat cover for easy storage of small items.
Easy to install, it only takes about half an hour to install following our simple steps, and no tools are required. Detailed installation instructions are included in the product packaging, and when installed correctly, the car seat cover will be firmly fixed and will not slide.
Product Details
Customized fit For Toyota 4runner 2011-2022 (2-Row,5 Seats Model ONLY)

Premium Material
Our 2011-2022 Toyota 4Runner seat covers are made of eco-friendly 
high quality wear -resistant PU leather.





Modern Design
We combine modern elements and premium faux leather to bring a set of sleek, clean, durable 
and good-looking covers. At Coverado, we keep striving to offer a wide variety of custom seat 
covers to enhance the off-road experience




Reserved

Safety

Interface
Airbag openings and seat belt openings are reserved, and compatible with safety configurations, without affecting the original safety configurations



High quality
Select high-quality wear-resistant, waterproof, anti-aging, anti-wrinkle leather fabrics, and an all-inclusive design, to protect the original car seat.

Function: The 2011-2022 Toyota 4Runner seat covers protect the original seat covers from scratches and stains.The car seat covers does not affect the airbag popping-up and seat heating .It is neat and beautiful, all edges can hiding in seats.





The rear car seat cover display
There is always a color for your car.





【FUNCTIONAL & EASY TO CLEAN】Front seat covers are designed with a small storage pocket on the back for magazines, books, wipes, and small accessories. Our tundra seat covers can easily be installed and cleaned by wiping with a towel while offering protection for the upholstery of your truck.
Specifications
Material: PU
Filler: Cotton
Combination Type: Five Seats
Season: All Seasons
Gross Weight/Package: 5( kg )
Package List
Each package comes with 2 front seat covers, 2 rear seat covers and a console cover(includes front and rear headrest caps). Toyota tundra seat covers are compatible with armrest covers, headrest covers, compatible with airbag. These is a complete set.
Installation
No professional installation is required. Easy to install, And we will tell you how to install it if you have any questions, We will do our best to help you And make sure you have a good feeling about shopping in our store.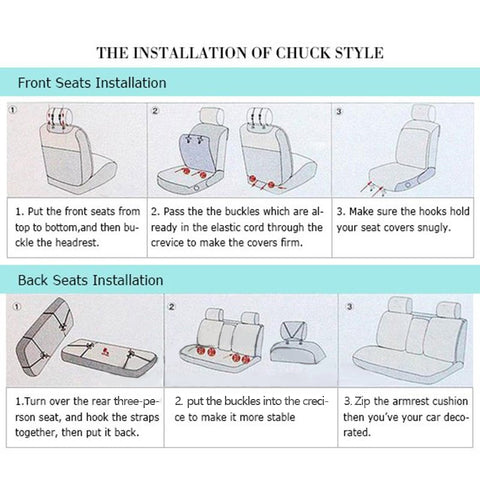 Compatibility
Custom Fit


Toyota 4runner 2011-2022 (2-Row,5 Seats Model ONLY)